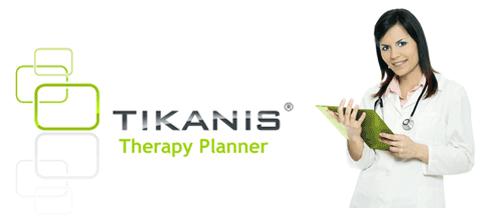 Patient-oriented resource management
The TIKANIS Therapy Planner is an innovative software for efficient and patient-oriented resource management in hospitals. Beyond organization of patients, employees, therapies, and rooms, the software benefits from a rich set of functionalities motivated by the daily work of our customers.
Developed for and with hospitals
Visual, patient-oriented therapy management
Combining the clarity of paper-based plans with the efficiency of modern software solutions
Database-supported client/server architecture
Ergonomic and customizable multilingual user interfaces
Automatic billing according to KTL 2007
Statistical analysis of rendered services
Inexpensive individual software adaptions due to innovative database technique
To switch to product specific site click here (only German).
Customizable Configuration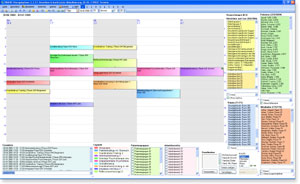 Multiple displays of patient therapy and employees' tasks let you monitor progress and optimize resources to provide the best care for your patients. Each user configures the system display to fit their personal needs. The configuration is template-based so that it can be shared and reused. The system comes with an automated workflow design and pre-configured templates so that its adoption becomes a seamless process.
Date Listing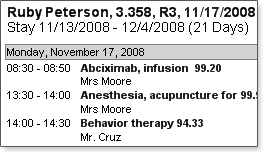 An easy-to-use listing of patient therapy plan and activities can be printed from a set of pre-defined formats such as time table or date-list fashion. The print-out can be scheduled as a repeated process sent to any printer within the network. It can also be used for managing personnel tasks, hospital beds, equipments, clinical sampling and many more.
Backup and data import
Patient information can be imported automatically from an external database source. Stored information is regularly saved into an encrypted backup file. Security level and access can be configured for each individual based on roles and privileges. A date-specific undo and redo functionality simplifies the correction of entries.
Language Internationalization
Therapy Planner is available in the English, French, German, Italian and Spanish languages.
Ongoing Education and Support
Equipping your project team, IT staff and end users with the knowledge they need to use, deploy and support a global solution will ensure a successful implementation. TIKANIS trainers offer education solutions to ensure customers maximize the value of their investment. Scheduled training courses and workshops are provided either at the customer site or using a virtual meeting. Courses can be tailored to a customer's specific needs.
As resource management solutions are typically highly integrated mission-critical systems, TIKANIS provides dedicated support on hand to deal with problems should they occur. TIKANIS maintenance support provides access to the latest software updates, ensuring that you benefit from the latest technology and applications.